Experience excellence in service when you visit us!
We offer a wide variety of top quality services to fit your needs. Our experienced staff will help you determine the best services for your needs and deliver the kind of quality and value you expect from a professional salon and spa . Our location is designed to make your experience enjoyable and leave you feeling inspired! Check out our complete service menu below to get a feel for what we do. Please note: Service prices and availability are subject to change without notice.
$40
Our basic spray tan! We'll custom select or blend a color that's just for you! Simple, clean and quick. You'll look great right out the door!
Single Session, Norvell One
$50
Norvell One changes the game! It is custom made to drastically shorten the time needed to reach your maximum tan. Effective in as little as an hour...Norvell One is a great option for those who can't wait for a basic spray tan to set.
add $15 to your spray tan session
Maximize your results by adding our Platinum Service! It includes the eX-mitt pre-spray exfoliation, a pre-session pH balancing spray and a post-session moisturizing spray. Want to "shimmer" as you head out for the night? We'll even throw in some "Dancing With The Stars" post-session shimmer so you'll sparkle and dazzle all night long!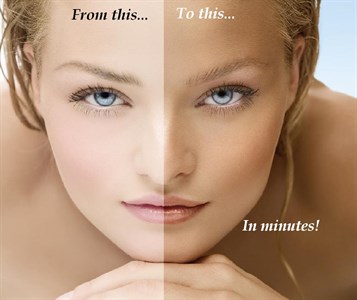 3 Session Spray Tan Package
$95.99
Three basic spray tan sessions...at a discounted price!
3 Session Norvell One Package
$135
Three Norvell One spray tan sessions! Three visits, three sprays...using the industry's best quick-setting solution!
Return to Top
Service Policy
Please call (419)483-0888 or email sasssalonspa@gmail.com for our appointment policies.